Superfinish ceramic stones
Superfinish ceramic stones
Ceramic grinding and superfinishing stones are abrasive tools used for finishing particularly hard materials such as metals, porcelain and glass. They can also be useful for finishing parts with particularly precise geometries, such as in watchmaking, tooling or plastics moulds. We offer chromium-doped alumina stones with three types of grain finish: fine, medium or coarse, which allows for totally different finishes. The doping of the alumina with chromium oxide further increases the hardness of our ceramic stones.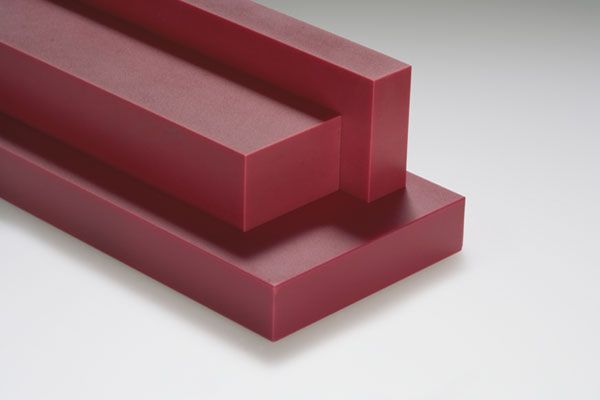 Why choose chrome-doped alumina for sharpening?

Our industrial ceramic stones and other superfinishing tools are made of pure Kyocera alumina doped with chromium. The addition of chromium not only gives the tools a red colour, but also provides them with additional properties. The alumina itself is a high-performance technical ceramic. Components made of 99.7% pure alumina (e.g. Kyocera DEGUSSIT AL23) can withstand very high temperatures of up to 1950 °C. This material has excellent dimensional stability, even at high temperatures. In addition, this ceramic offers good resistance to wear, mechanical abrasion and corrosion, which ensures the long operational life of our products.
Doping pure alumina with chromium oxide increases the material's hardness and wear resistance. This further extends its operational life and in particular the life of the edges and profiles of the sharpening stones. On the one hand, this durability ensures very good shape stability (essential for good machining that remains consistent over time), on the other hand it saves money by changing the superfinishing abrasive tool less regularly.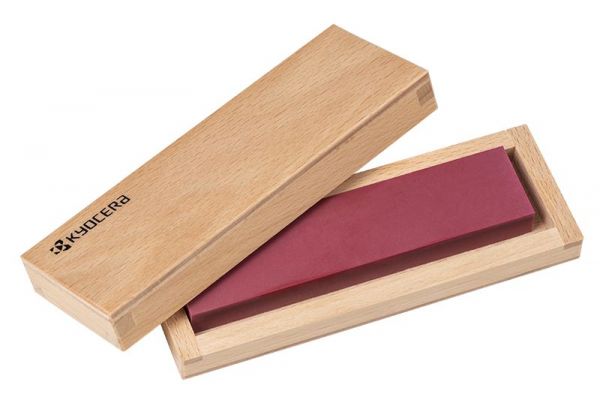 What are the different grinding stones we offer?

Our chromium-doped alumina superfinishing tools are available with 3 possible grit finishes: fine (from 0.1 μm), medium or coarse (up to 100 μm). The coarse grit is obtained by sandblasting, which gives them a rougher appearance and allows them to achieve the same results as ceramic stones or highly abrasive reconstituted stone. A medium finish allows for the sharpening and grinding of hard materials as it still grips well. Finally, a fine finish is obtained by grinding with a diamond. It is ideal for finishing precision workpieces as it achieves a very high level of polish.
Among our standard ceramic products, you will find "classic" sharpening stones. They can be made of pure alumina (Kyocera DEGUSSIT AL24), in which case they will be white in colour, or of chromium-doped alumina (DEGUSSIT DD57), in which case they will be red in colour. They are available with the 3 possible types of grain finish. Their length can vary from 100 mm to 200 mm.
We also offer removable sharpening stones. They are made of Kyocera DEGUSSIT DD57 alumina (chromium doped) and are delivered in a wooden case. They are not available with a coarse finish and are only available in 120 x 50 x 10 mm.
Finally, our standard products also include sharpening stones glued in a wooden case. They can be 100 mm to 200 mm long and are available in pure alumina doped with chrome or not. Simple alumina stones (DEGUSSIT AL24) are available with a coarse grain finish, those in chromium-doped alumina (DEGUSSIT DD57) are available with fine or medium grain finishes.
See the standard catalogue products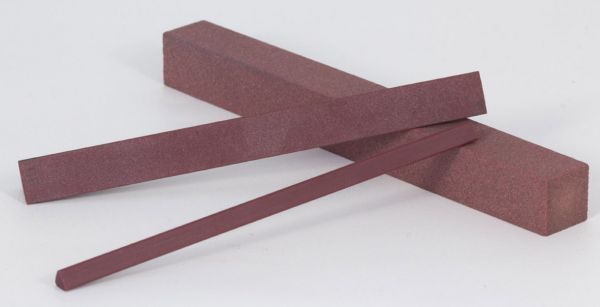 In what areas are ceramic grinding stones used?

Small grinding stones with a fine grain finish can be used for high precision applications where exact shapes with complex geometries or small workpieces are required. Superfinishing can achieve easily and consistently reproducible surface quality and polish (with an accuracy of up to 0.004 μm).
Medium and coarse finish stones can be used for grinding, deburring or sharpening hard materials such as metals or glass. They are used, for example, in the finishing of carbide tools, plastic moulds, watches and precision mechanics.
Product gallery