Pure alumina plates C799
Pure alumina plates C799
Technical ceramic plates are semi-finished products made of alumina. They are mainly intended to be re-machined (by our customers or partners) in order to obtain much more precise parts. Thus, the buyer of these plates is free to use them as he wants to take advantage of the properties of alumina. For example, he will be able to use the thermal properties of these ceramic materials in the glass industry or industrial furnaces. We offer rectangular or round ceramic plates, with or without holes, manufactured by isostatic pressing.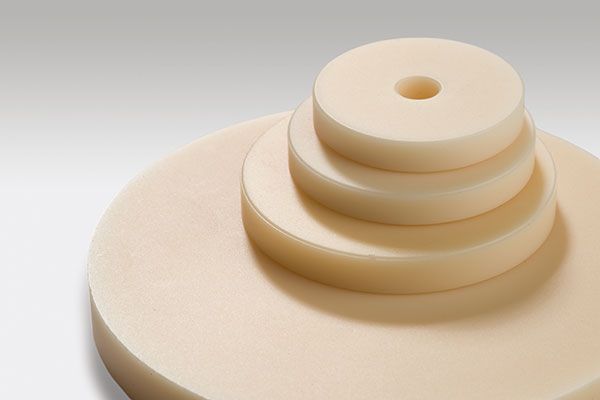 Why choose alumina to make ceramic plates?

Our ceramic plates are made of alumina. Alumina is a refractory technical ceramic: it resists thermal shocks and temperatures up to 1950 °C for 99.7% pure alumina (like Kyocera DEGUSSIT AL23). It retains properties such as excellent dimensional stability or very good electrical conduction even under high heat. It is therefore often chosen for high temperature applications. Ceramic products and more particularly aluminum oxide also offer good resistance to corrosion and abrasion, which allows components made of this ceramic to be used in contact with any product, even corrosive. This property ensures reliable measurements, which is essential in research for example: thanks to its chemical inertia, the material will not interact with the experiment and will not distort the results.
Alumina also has excellent wear resistance. This makes for durable and therefore economical products. It also ensures that the products will keep the same shape over time. Alumina products therefore enjoy a long operational life.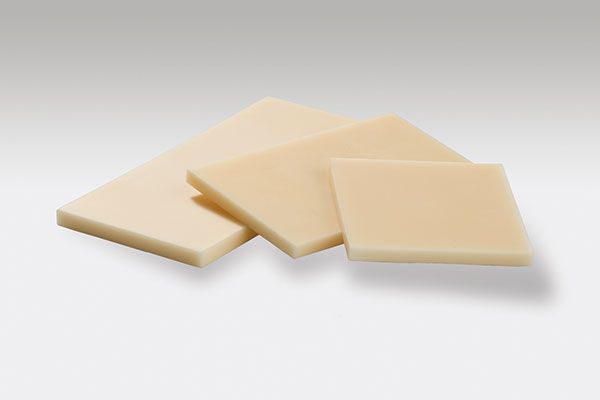 Why choose alumina over MACOR® for platemaking?

MACOR® is known in the ceramic industry for its outstanding machinability. Indeed, this glass-ceramic can be easily machined with conventional tools. The manufacturing processes for the production of MACOR® ceramics are simple even with very complex geometries and do not require a lot of resources. Apart from its very good machinability, MACOR® is used for its chemical inertness, dimensional stability and good temperature resistance. It can withstand temperatures of up to 800 °C continuously and 1000 °C at peak.
However, the thermal properties of Kyocera alumina are better. It can withstand temperatures up to 1950 °C, which is much higher than MACOR®. Thus, the choice of alumina allows the products to be used in a much wider range of applications. Aluminum oxide is also much more resistant to abrasion and corrosion. And alumina offers much greater wear resistance than MACOR®. This saves money since alumina components will have much longer operational lives than MACOR® parts that will need to be replaced more regularly.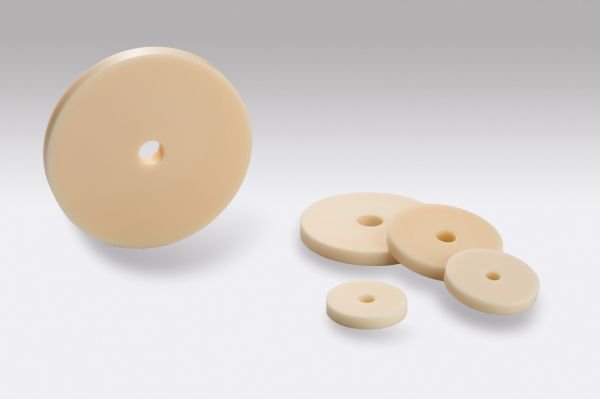 What sizes of ceramic plates do we offer?

We offer different types of slabs in various sizes. Our standard product range includes round plates. Their diameter varies between 10 mm and 80 mm when made of Kyocera DEGUSSIT AL23 alumina, 130 mm and 200 mm when made of DEGUSSIT AL25 alumina. Their height varies with the diameter and can go from 3 mm to 25 mm. In addition to our standard range, we offer round ceramic plates with a diameter of up to 400 mm.
We also offer round ceramic plates with a hole in the center. The diameter of the center hole can be 6, 8, or 10 mm depending on the size of the plate. The diameter of the plate can vary between 20 and 80 mm. In addition to our standard range, we offer round plates with a hole whose diameter can be up to 350 mm.
Our standard products also include rectangular ceramic plates. They can be made of Kyocera DEGUSSIT AL23, DEGUSSIT AL25, F99.7 or FZM, and the dimensions of these ceramic plates can range from 50 x 25 mm to 145 x 85 mm. The available sizes depend on the chosen material.
We also offer ceramic plates in MACOR®, dense mullite (C610) or porous mullite (C530), zirconium oxide, sapphire, silicon nitride or silicon carbide in order to best suit our customers' needs.
How are alumina ceramic plates made?

Our alumina ceramic plates are generally manufactured by cold isostatic pressing or by unit pressing. Cold Isostatic Pressing (CIP) is an efficient way to manufacture large ceramic components with minimal porosity.
We usually press very large blocks from which we cut out plates of any size and shape by sawing or raw machining (on CNC centers) without the need for special tooling or expensive pressing dies. After pressing, the alumina is still unsintered and has the consistency of chalk, which makes rough machining easy and very fast with conventional carbide tools.
Since sintering generates a linear shrinkage on the alumina of the order of 18-20% (i.e. 50% of the volume), all dimensions are recalculated during green machining so as to come within +/- 3% of the sintered dimensions at the furnace exit.
Product gallery